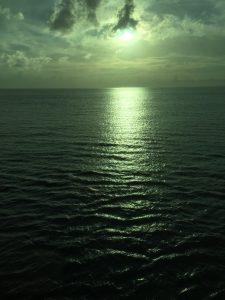 I remember vividly the two most prominent cases of envy that I have felt for another.  My envy always starts with me and what I feel I don't have.  As a young woman (in my early twenties), I wanted very badly to go to college.   My family of origin didn't have the funds (nor the inclination). By the time I met Brigitte, I had children and could not even consider a college education.
Brigitte was a cocktail waitress who worked with my mother.  She was tall and beautiful and had movie star hair.  Her hair was a deep brown, naturally curly and framed her face naturally and provocatively.  My mother marveled at Brigitte's choices as Brigitte had traveled the world with her military parents, spoke a foreign language and had a college degree.  I saw and met Brigitte many times.  Once, on a cruise dinner party that I attended with my mother, Brigitte was present.  I was a bit lonely and it must have shown as Brigitte spent a lot of time befriending me.  She was sweet and loving and beautiful.
I met Brigitte's boyfriend, who was a highway patrolman.  They seemed happy together.  Secretly, I nursed a grudge against Brigitte.  I thought that she was wasting her college education working as a cocktail waitress.  I felt that I should have been given her educational opportunities as I would have made use of them.  I felt that the world was unfair, giving gifts to those who don't care or don't appreciate.
And then I got the call. My mother asked me to come over.  My mother told me "last night Brigitte and her boyfriend were arguing.  Brigitte went home with another one of the cocktail waitresses and a male friend was with them.  Brigitte told her boyfriend where she was.  Sometime between 3:30 and 5:00 a.m., he found them.  Brigitte's boyfriend took his gun and shot all three of them.  Clearly, Brigitte's girlfriend ran, because she was found in the hallway with a bullet in the back of her head.  The only survivor was the male, who was shot in the face".  He suffered a deformity for the rest of his life.
It came to light that Brigitte's boyfriend was a combat veteran who had served in Vietnam.  For the next fifteen years I was afraid of Vietnam vets.
My next example of Envy is much, much later, after my divorce from my husband: the father of my children.  It took us quite awhile to finalize our divorce and he struggled mightily to avoid our debts and to avoid paying child support.  It was an extremely difficult time for me as I could never quite pay ALL of my bills.  Taking care of the kids financially always left me feeling inadequate.  I took a second job and just kept trying.  My ex-husband remarried and I was so very envious of their financial security.  They bought a new home, drove new cars and had a vacation home in North Carolina.  In the meantime I couldn't afford a new prom dress for my daughter.  I envied my ex-husband's wife's financial security.  She is childless and could focus all finances on her self.  I went five years without buying new underwear, I just couldn't afford it.
And then, the unthinkable happened.  My ex-husband died from his one and only heart attack.  He was only 54 years old.  The new wife got to keep the estate, but it didn't matter because my children's father was gone.  That single event shattered everyone's security for many years.
And now when I look back, I think Envy is the most wasteful emotion of all.