The Disclaimer: I am a Certified Addictions Professional, when I discuss habitual behaviors, I am speaking as a professional.  NOTHING will substitute for a human professional.  I hope that everyone understands that the internet is only a tool and cannot be substituted for professional help with an issue.  I will also extensively discuss food and diet, I am NOT a dietitian.  You must go to a dietitian or a physician if you need information about dieting and nutrition.  When I speak about nutrition, I am speaking as a parent, not as a certified professional.
4.15.16
I have been reading (of course) and my nutrition research had brought me to some discouraging news: non-fat and low-fat is not always good.  In fact, it is often NOT good.  Why?  The fat is taken out of yogurt and ice cream and other products and replaced with very bad stuff, like lots of sugar, hydrolyzed oil and high fructose corn syrup.  Why am I disappointed?  I thought that when food manufacturer's started removing fat that they were hearing our pleas for healthy foods.  I thought that food manufacturers had developed a kinship with humans that transcended profit.  How ridiculous was I?  I don't begrudge the food manufacturers a profit, I just wish they would stop poisoning my body to make that profit.
I really am very discouraged.  I think in this area of food production, one must trust no one, a fact that I must take to heart.  I must also assiduously read food labels.  It is sad, but it is true.  There is no one to trust and we must go to great lengths to defend ourselves from those who would hurt us, in order to make money.
🍗🍗🌽 🍗🍞🍞 Thanksgiving
My plan is to provide all of the information you need to cook the perfect Thanksgiving meal.
First a new recipe:
INGREDIENTS
2 packages frozen whole kernel corn (10–12 oz)
2 tablespoons fresh chives, finely chopped
2 large eggs (or 1/2 cup egg substitute)
2 cups shredded Cheddar or Monterey Jack cheese, divided
1/4 cup all-purpose flour
2 tablespoons sugar
2 tablespoons unsalted butter
1/4 teaspoon cayenne pepper, optional
1/3 cup cooked bacon pieces
STEPS
Preheat oven to 325°F. Microwave corn on HIGH 1 minute or until thawed. Chop chives.
Place eggs, 1 1/2 cups of the corn, 1 3/4 cups cheese, flour, sugar, butter, and pepper in food processor bowl (or blender); process until blended.
Transfer mixture to 2-quart baking dish. Stir in remaining 2 1/4 cups corn, bacon, and chives; sprinkle with remaining 1/4 cup cheese. Bake 30–35 minutes or until set in center. Let stand 5 minutes to cool. Serve.
NUTRITIONAL VALUE
CALORIES (per 1/8 recipe) 260kcal; FAT 14g; SAT FAT 8g; TRANS FAT 0g; CHOL 40mg; SODIUM 350mg; CARB 21g; FIBER 2g; SUGARS 6g; PROTEIN 13g; VIT A 15%; VIT C 6%; CALC 20%; IRON 6%
Every year try one new recipe
The menu:
Turkey (of course)
Stuffing
Mashed potatoes and gravy
Green bean casserole
Ham, spiral sliced, boneless
Sweet potatoes
Yeast bread and whole grain rolls
Appetizers:
Cheese ball and crackers
Celery with cream cheese
Dessert:
If guests want to bring something, this is the best dish because anything goes! Make sure you have whipped cream and ice cream to complement any dish.
So my mother was the Paula Deen of the 70s and my mother-in-law was the Rachel Ray. While Mama wanted lots of butter, Ella Mae was focused on sophistication.
Ella Mae's cheese ball: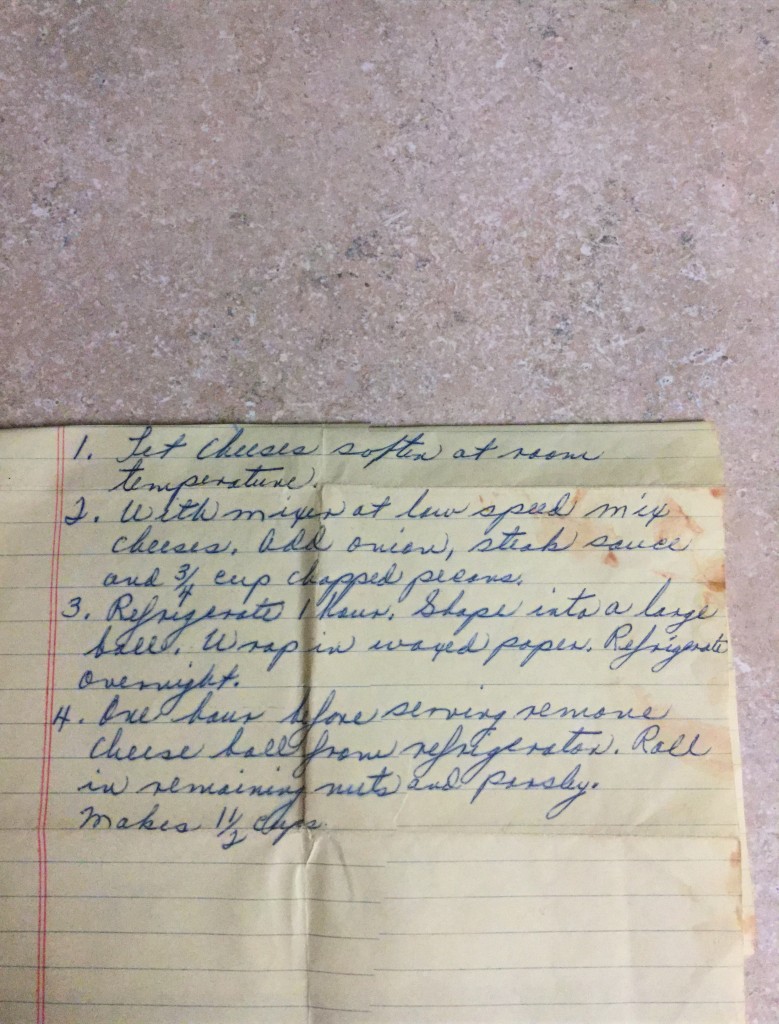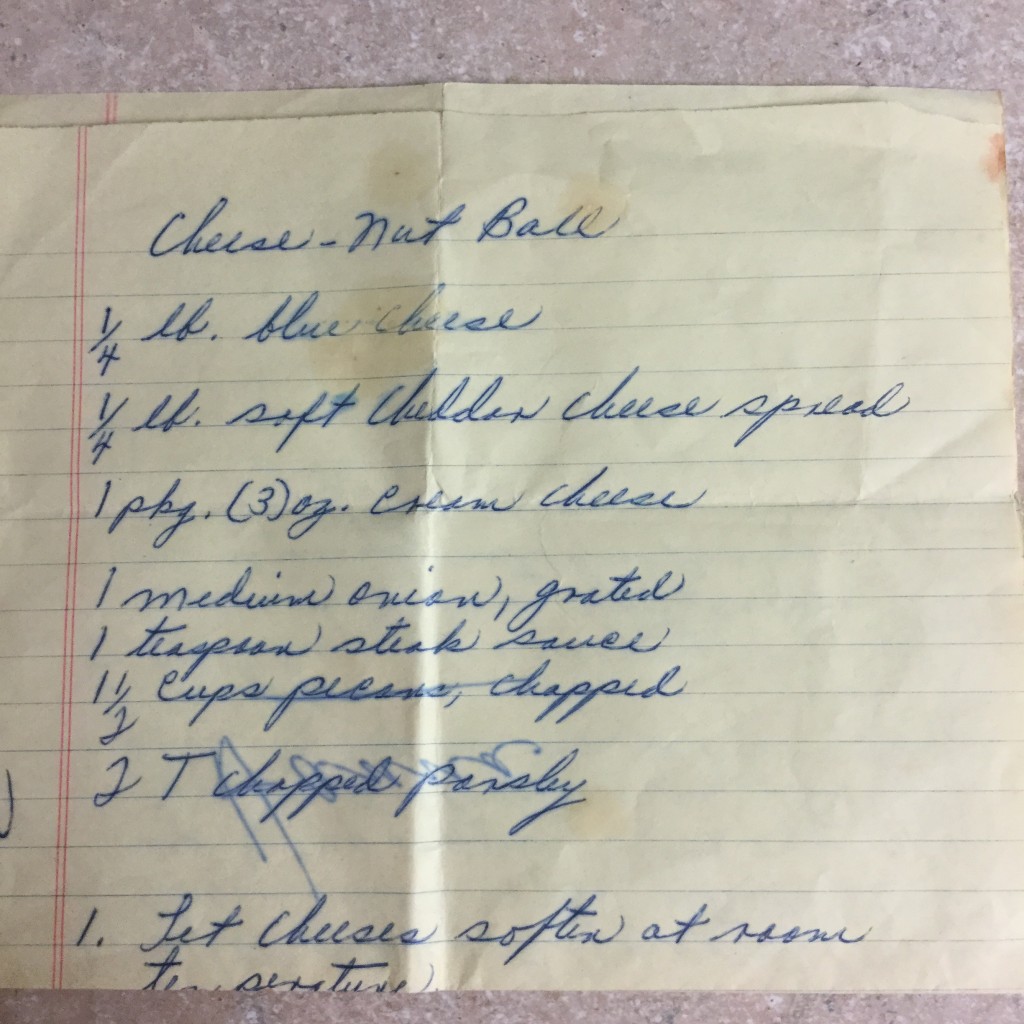 Okay so make sure you have food out for the kids and grandkids as soon as they get to your house. You don't want to rush to make your meal and you don't want your guests to be full before you serve. So put a few appetizers out for casual conversation and tummy control.
I always make fudge and organize my dishes 3 or 4 days before the main event. I don't want do-ahead chores to trip me up on the big day. My serving dishes AND serving utensils are ready at least 2 days before Thanksgiving.
Grocery store and cabinet list:
Turkey, one quarter pound of meat per person
I buy the organic, anti-biotic free turkey, because my daughters make me.
Ham, spiral sliced, bone in or boneless, I go with boneless.
1 package of stuffing, seasoned or unseasoned. If you are adding seasoning: parsley, rosemary and thyme.
Celery
Onion
Mushrooms
Potatoes, as you prefer,
Sweet potatoes, as you prefer
Frozen green beans
Mushroom soup
Fried onions
Chicken broth, again organic
Soy sauce
Milk
Frozen yeast rolls
Flour
Garlic
I think the turkey is the most important:
Put the turkey to thaw, no Later than Tuesday.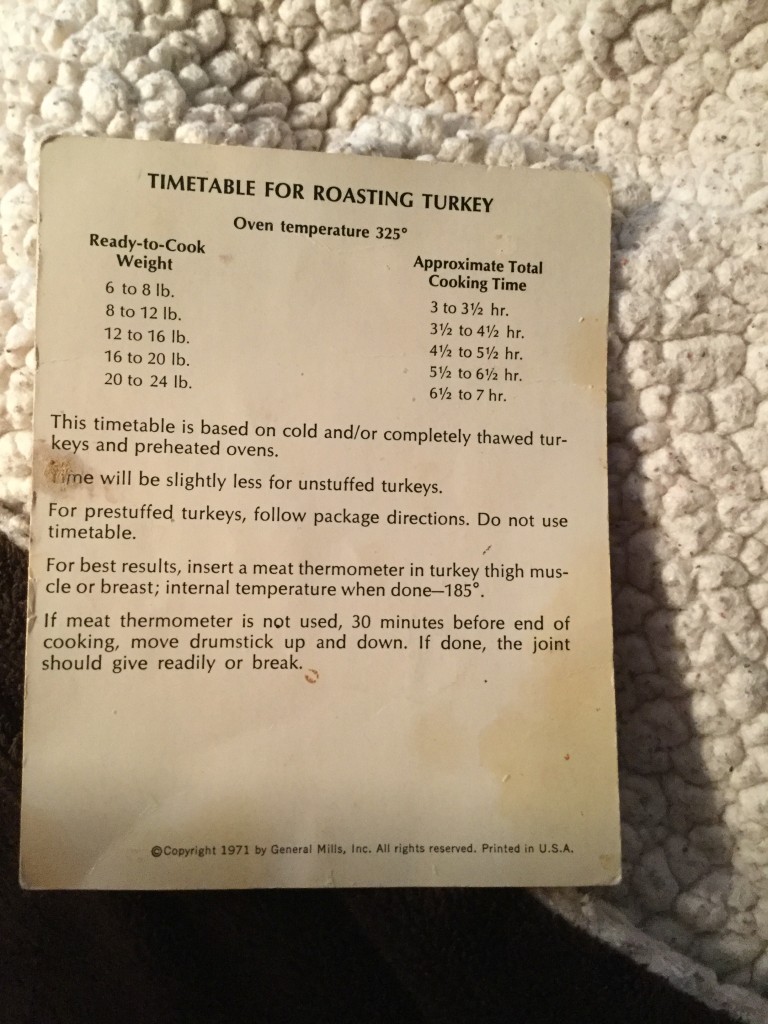 So then using vegetable oil, sage, paprika and seasoned salt, then garlic powder, black pepper, nutmeg, onion, and bay leaves.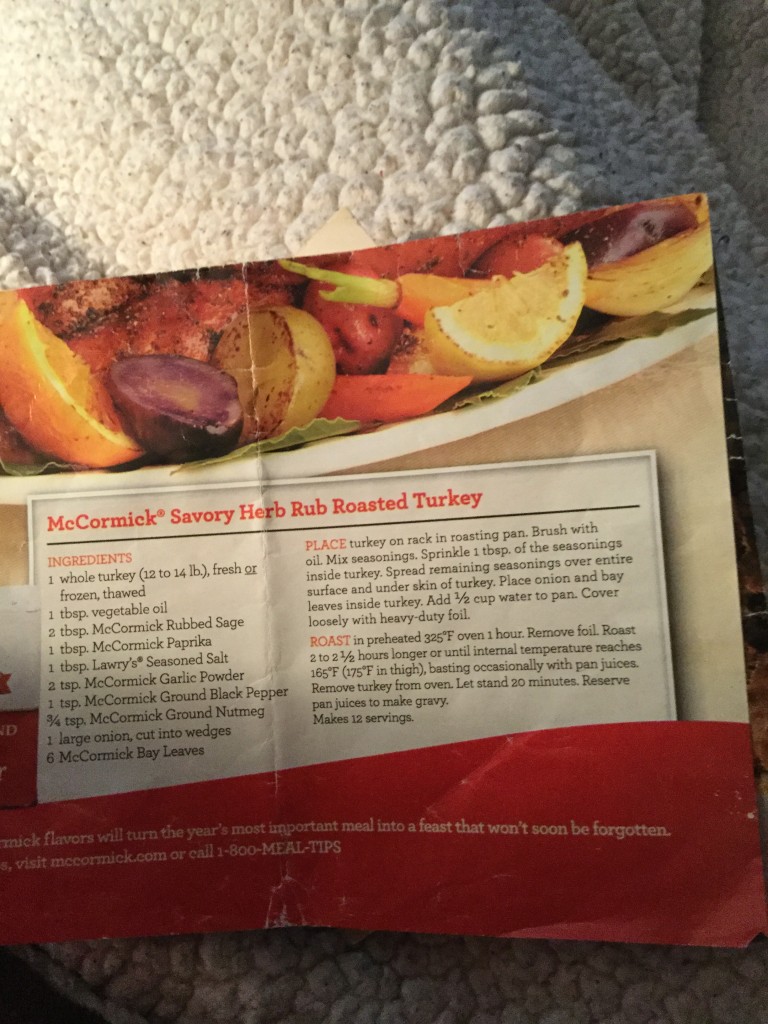 It is so important to create the right flavor. I prefer my stuffing inside the turkey. You can certainly mix and match flavor when working with stuffing.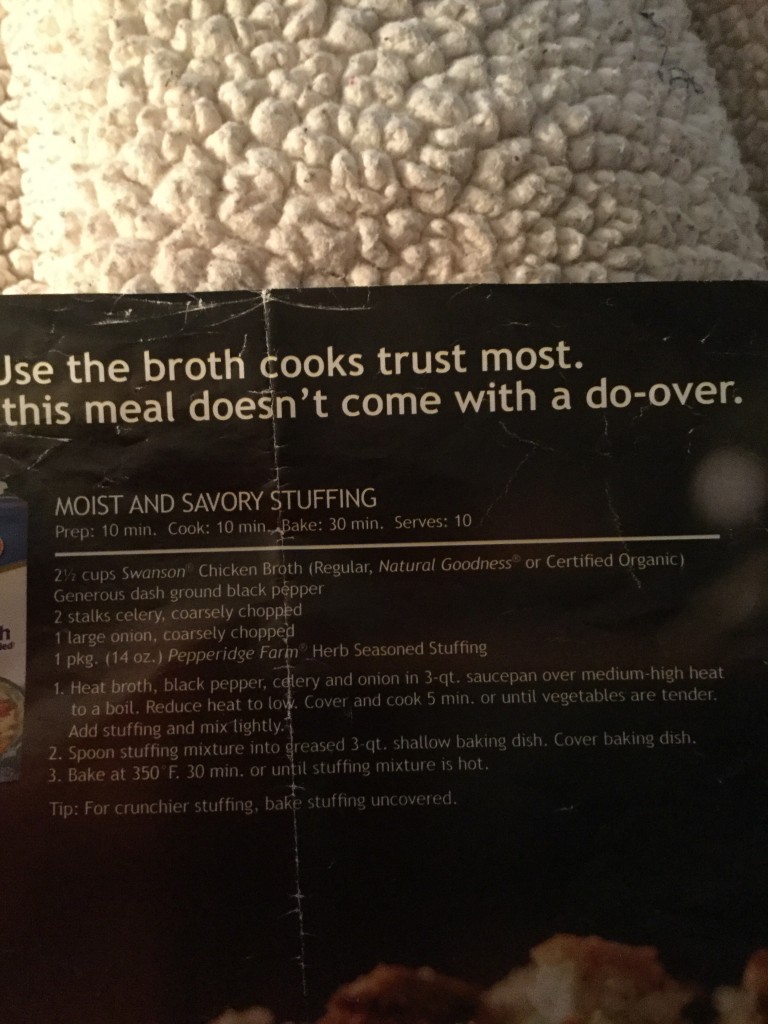 Again! I always put the stuffing inside the turkey. There is no reason to over do here as the stuffing is always delish.
Mashed potatoes are best made with lots of butter, milk and sour cream. This is an easy recipe to modify to your family's liking, as is the sweet potatoes!
Additionally, everyone knows how to make green bean casserole, my family loves cheese, so I put a layer of cheese between the two layers of green beans.
I always make yeast rolls I buy from the freezer section. If you are going to do this, make sure you get up early so that you can set rolls to rise.
For your ham, buy canned pineapples, brown sugar and cherries. One thing I have discovered is that people love special touches and all of these look like special touches.
Our Schizophrenic Relationship with Food ~
I was raised to hoard food. My mother survived the depression in Oklahoma and as a child, she often felt hunger.
We were told to finish our food, no matter what. As a six year old, I sat at the dining room table for 45 minutes because I did not want to eat my greens. I remember that at 10 years old, I had cans of Chunky Campbell's soup under my bed and I too felt the pain of hunger as I grew up.
Later, as I became a mother and listened to older mothers, there was always love and kisses for chubby baby cheeks and thighs. You were thought to be a good mother if your child was hefty.
My own mother believed that my "skinny" frame was a punishment and insult to her nurturing ability. Some of the things that my family did to celebrate included luscious ham sandwiches with potato chips for lunch. We had ice cream as a very special treat on Sunday evenings.
My mother taught me to use pasta and bread to stretch a meal to feed more people and we always had to stretch. There was never a time when there was just too much food.
We were not allowed to drink soda per se, but kool-aid was thought to be an excellent beverage and we could even drink orange and grape soda on special occasions. Did my parents think that the orange and purple colors indicated fruit juice? I don't know.
How do we move from this reality to today? Not any of these practices are good for optimum weight and health. To believe that food must be hoarded is to believe that deprivation is right around the corner and this is a harmful and untrue belief. We do not need to eat like a bear to hibernate during a cold winter, when we wake up tomorrow, there will be food.
It is not a good idea to finish all of the food on your plate. Not only do we have too much on our plate at home, but restaurant plate sizes / portion sizes have doubled in the last 40 years. Having a larger stomach means that we eat more, eating more means that we are bigger. We can't just keep eating because food is served to us. We have to change the way we feel about waste, it is not good to waste food, however and this is a big however, putting that food in our stomach after we are full is the biggest waste of all. It serves no purpose except to make us fat. It's important that we understand waste in an all new way: waste is eating food after we are full.
Chubby cheeks and thighs are NOT signs of health in a child and definitely not a sign of good mothering. Babies don't need an extra layer of fat any more than adults do. In fact, it is more harmful to babies to be fat because it is the beginning of a short and uncomfortable life: because if new habits are not formed to change the habit of over-eating, terminal illnesses will ensue.
Pasta and bread are both great fillers, but must be kept in their place – as fillers. If you have a very limited amount of hamburger meat and vegetables, then you may want to increase the size of your meal by adding bread or pasta, however, if there is plenty of meat and vegetables to go around in appropriate portion size, there is no need to add these foods. Particularly bad for humans is processed food of any kind and included in this group is white flour. White flour does not provide the right kind of nutrition, nor does it provide the nutrition intended by having a healthy diet that includes grains. People who do not suffer from celiac disease may find that their wheat intolerance is due to white flour rather than to a plain old whole grain.
I don't even know where to start with sweet drinks…It's a difficult subject. I believe this because even though it is generally understood by the public that soda will kill you early, most people who drink soda, continue to drink soda. Even though people know that diet soda is not beneficial in any way, they continue to drink it daily. Even though we know that some sodas have a ton of caffeine, we often see parents purchasing this soda for their children, even young children. Additionally, we all know that drinking red or blue drinks is not natural, yet not only do we drink these colors, but again, we offer them to our children. Why? Why do we continue with these practices? There is something lovely about that sweet flavor in our mouths. We identify it with nurturing, with feeling good and with a myriad of other feelings of satisfaction.
How do we overcome belief structures planted in childhood? How do we stop our brain from believing that happiness is related to food or drink consumption? How do we move away from the belief that our children should be thick around the waist in order to prove they are healthy? How do we get away from the belief structure imbedded in us as children by our parents' fear of deprivation?
We have to create a new conversation around food, beauty and satisfaction. We cannot say anything specific, as our journey to where we are has been traveled by many different routes. There are many truths that brought us here and we must honor those truths in order to set a new path to health.
Another recipe:
Why do recipes measure vegetables in cups? Usually vegetables do not fit just right into a measuring cup.
1/2 cup of ginger salad dressing into the frying pan
Stir in and sauté strips of sirloin beef sliced in thin strips
(About a pound of beef)
Also slice thinly:
One red bell pepper
3 green onions
1/2 bunch of cilantro – chopped
Then also cut a small bag of fresh broccoli into small pieces
Add 1/4 cup of soy sauce to beef, remove when brown
Add broccoli to pan with a shake of soy sauce
Cook servings of instant brown rice
Add all vegetables to sauté pan once broccoli is tender
Put beef back into pan to heat
Serve sauté vegetables over rice – serves 4
"Don't be flippant Mom"
Absolute cure for muffin top: Quit wearing pants that are too tight for you.
Frosting by Me!
2 sticks of real butter, dropped in a bowl to soften for a few hours
A couple of cups of confectioners sugar,
Start mixing, it will be dry
Add a tablespoon of milk at a time until consistency is correct
If you like, add cocoa, pure dry cocoa powder, toll house makes it and so does Nestle'.
Also, if you don't use cocoa, you can add food color for fun! I used yellow once for a sponge-bob fan.
Ella Mae made it with these ingredients:
1 stick of butter
Vanilla – usually 1 teaspoon
1 pound powdered sugar and
Cocoa – 3 squares
And that is a direct quote.
Beef Stroganoff from the Fifties – by Ella Mae York
Winn Dixie Sirloin tip steak, about one pound
dredge steak in salt, pepper, flour and garlic, and then brown in butter with onions
add 1 can of beef consomme' and 1/2 can of water add 2 tablespoons of tomato paste and 1 package of onion soup mix
Simmer for 30 minutes
After simmering, and just before serving, add 1 pint of sour cream and stir until smooth
Serve over cooked egg noodles
Recipe can be made as large or as small as you wish.
Myth – if you don't eat everything on your plate, it's a waste of good food.
Truth – the worst waste is the fat on your body.
I don't:
I don't exercise and then live my life, I live my life exercising:
I want to carry my own groceries.
I want to walk upstairs.
I want to walk across the parking lot.
I want to take a walk every chance I get and at least once per day.
I want to stretch my body out every single morning.
Yeah.
2/28/15
That's the problem with entitlement, it's drawing an equation where no equation exists.  I thought resisting chocolate cake and bakery products entitled me to a slender body.  I eat healthy, I follow all of the dietician's "suggestions" and still I cannot claim a slender body.  I do these:  I plan my meals and I limit the calories of all the meals I plan.  All of the snacks that I have access to are healthy: walnuts, cashews, dark chocolate, Greek yogurt and honey.  I eat according to the schedule, I do not graze.  I don't ever put crackers or chips at my desk or next to me while watching television.  I don't even eat crackers because white flour is not recommended for post menopausal women.  I use the book Calorie King so that I know what to avoid: I never eat at fast food restaurants, ever.  I also have a Calorie King ap for my iPad so that I can get information on the go.  We don't eat cakes, donuts, pastries, white bread or any other white flour.  Our pasta is organic whole grain and our rice is brown.   I switched to almond milk to reduce the dairy and beverage calories.  We eat a lot of salads.
I walk across the parking lot and I take the stairs four times per day, every weekday.  I also walk a 15 minute mile at least 3 times per week at lunch time.  I jump up when I can sit down and I carry my own groceries so that I can have the experience of lifting.  If that weren't enough I also have a set of stretches that I do every week day morning to keep my back and knee from getting stiff and sore.
The expectation that I have is that all of this effort will give me a slender body.  It does not.  Eating right does not equal a slender body.  Living healthy and actively does not equal a slender body.  I have a couple of things working against me: I have bradycardia = slow heartbeat = slow metabolism.  My heart does not need treatment; it is at least partially a side effect of my hypothyroidism, but there it is, the kiss of death to an "easy" diet.
Back to entitlement, healthy eating does not equal slender body, actively living does not equal slender body.  Slender body is eating less than actively using, that is the only equation that exists.  I can feel sorry for myself because my metabolism makes me work harder than other people, I can believe that the physical universe is unjust to me and none of that matters to this reality.
Slender body = eating less than my body uses.  Now that's an equation.
1/30/15
Don't Give Up Your Body
Your body is yours and nothing changes that.  You own it and you manage it, no matter what.  You cannot say "my job is so stressful that I have high blood pressure".  You don't own your job the way that you own your body.  Don't invite an outside force inside that does damage!
Please don't say "this job is making my blood pressure go higher."  Or, "this job is giving me an ulcer." Or, "Mexican food gives me heartburn."  The only accurate way to express what is happening to your body is to say "I haven't made the correct decisions to keep my blood pressure down."  Or, "I don't know how to reduce my ulcer pain." Or, "the way to stop heartburn is to stop eating the food that causes it."
It is difficult and perhaps very difficult to make our body happy, but it is well worth the effort.  It takes accountability to have a healthy body.  Note that I did not say beautiful or well formed, I said a healthy body.
Part of the challenge of maintaining health is that in our culture we equate youth and beauty with health, but in keeping with the old adage, "don't judge a book by its cover" looks can be very deceiving.  I know young people who have never eaten anything but MacDonald's and have very well formed bodies.  The well-formed body belies the fact that the body is unhealthy.
Most importantly, don't surrender your body to any other force.  When you say that something outside of you is forcing your body into an unhealthy condition, you are, in effect, allowing that force to control you.
This is not to say that if you choose, you will be completely healthy forever.  It means that in so far as you are able, it is up to you to maintain and improve your health.  I recently watched a YouTube video with a young man who has Cystic Fibrosis.  He understood his disease and he understood that his role included taking responsibility for completing treatments every single day of his life.  No one can say that he could have done anything to avoid Cystic Fibrosis, yet he takes a very responsible role with his body and his disease.
It is not even possible anymore to blame your weight on the food manufacturing or restaurant industries.  You have to be illiterate and possibly even blind and deaf to not understand the connection between sugar, alcohol, animal fats, chemicals and a loss of health.
I believe that this is why so many people speak a language of irresponsibility – folks do not want to say, oh yes, it is I who have eaten and drunk to the point of disease and death.  Folks want to say, that it is someone else who did it to them.
Don't be that person.  Be the person who stands up and says, my body belongs to me.  I am in charge of what goes into my body.  I am in charge of how active I am.  I am in charge of the chemicals that I ingest.  You can do everything in YOUR power to make your body healthy and live long enough to enjoy retirement and grandchildren.  Or if not that, then perhaps travel and friendship, it is up to you…All of it.
1/25/15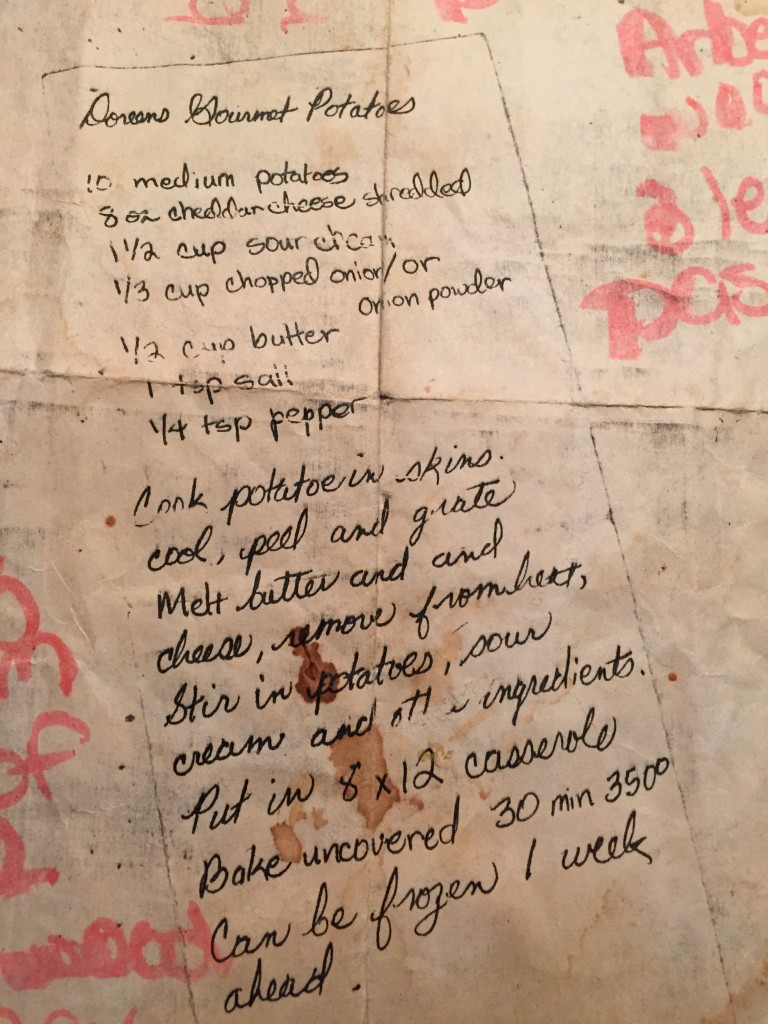 Doreen's Gourmet Potatoes
I have no idea who Doreen is.
I thought it important to give her credit for 15 years of a great potato recipe, since that was where I got the recipe from.
10 medium potatoes
8 oz. cheddar cheese shredded
1.5 cups sour cream
.33 cup chopped onion or onion powder
.5 cup butter
1 teaspoon salt
.25 teaspoon pepper
Cook potatoes in skins, cool, peel and grate.  I usually buy 1 bag of frozen hash browns instead, I haven't cooked fresh potatoes for this recipe for a few years.
Melt butter and cheese, remove from heat, sir in potatoes, sour cream and other ingredients.  Put in 8 X 12 casserole, bake uncovered for 30 minutes at 360 degrees.  If you are using the frozen hash browns, you need to cook for 45 minutes.  Can be frozen 1 week ahead.
11/29/14
It is a bit annoying to be taken in over and over again, by those internet ads: "5 Secrets to a Flat Stomach", "Florida Woman Loses 30 Pounds in 15 Days!"  Invariably I will click the link that takes me to a website that screams an advertisement into my face.  I am as gullible with the "para-medical" websites that promise quick fixes for weekend weight gain.  Inevitably each "advice" website must admit that the only way to lose weight is to eat less and exercise more – inevitably – yet I continue to look for the magic bullet.  I am lucky that I do not take the next step and actually purchase any of the diet dream elixirs, but still, I wish I did not yearn for the miracle of no effort and instant results.
9/29/14
There are some very, very basics:
We never eat fast food, ever, for any reason.  So, we eat at home and when we eat at home, we don't eat white flour, instead we eat whole grains.  I had a difficult time switching to whole grain pasta and even white rice had to go.  All of that was sad…
The other thing is that you need to read.  I didn't really "get" this until I realized that yogurt is 170 calories for a small serving.  When I saw this, I was a bit upset.  I do not like aspartame and so I have to search high and low for 80 calorie yogurt.  Recently my daughter showed me how important it is to read.  I have been buying expensive jam that is primarily high fructose corn syrup.  For the amount of money I was paying for the jam, I really thought it was good fruit – my daughter showed me what I was missing.
We like to eat at home.  We need to eat at home to keep our calorie consumption low.  Recently we were at Panera Bread and they have started publishing the calorie count of their menu items.  I was shocked when I saw that cups of soup were 700 to 900 calories.  All day long people purchase those cups of soup believing that they are eating 'light'.  It's ludicrous, even with the calorie count on the sign people are purchasing bowls of soup with 990 calories!
We eat fish or shellfish at least twice per week.  We eat chicken twice per week.  We drink water and stay away from any type of soda.  Recently, I found out that Crystal Light has aspartame (I didn't read the label, first) we aren't going to buy any more Crystal Light.  We do snack on frozen yogurt.  We do avoid breading.
Finally, don't let yourself get hungry.  Plain and simple, by eating systematically, you can actually end up losing weight.  But, beware – you cannot eat all day, you cannot put food on your desk and then chew all day; if you do, you will be over weight.
9/2/14
Ha!  The sloth continues, I am plagued by sweets and high fat foods!  It is so easy to slip one little item in; the trouble is that I slip a multitude of very small items into the mix.  Last month, we started using butter again, because it is so delicious.  Then, we are also snacking on cashews, which is a good thing right?  Not if you eat more than 2 ounces, the calories in cashews are very high.  We attended several parties and each time, I had cake (even today!).  So you see, in the realm of dieting, a little bit can equate to the slippery slope and before you know it, you are looking for large size pants!  Stop.
8/5/14
I can hardly believe that it has been almost 3 months since I posted here, so much has happened.  Here is what I need to write today: I wanted to use the rain as an excuse to avoid my walk.  I did not.  In fact, it is blazingly hot here in Tampa Florida with a daily temperature of 90+degrees.  I used the rain as an excuse to walk more – it is overcast and not really raining, but the overcast sky made the temperature livable.  I walked two long laps.  The exercise chases away the sloth.
5/11/14
GUEST CONTRIBUTOR: Nicole Bradham
I am honored to be asked by my mother to be a guest contributor to her blog, specifically under health related topics. I would like to refer to myself as a health advocate of sorts. I am passionate about real food, sustainable agriculture, organic farming, and much, much more!
I can recall a time in my life when the only thing I looked for on a box of food was the calorie and fat content. It never once occurred to me to move my eyes down to the ingredient list. What else could be in a box of mac n' cheese but noodles and cheese? I also realize that millions of people still think this way.  I trusted whatever was in the store, and the companies marketing good eating habits. "Milk, it does a body good!" I drank milk every single day of my life.  Never thought twice about it. It had calcium and made your bones strong. This is just one of the many lies told to the public so the dairy industry can continue making billions of dollars.
What the dairy industry doesn't tell you is everything else in the milk. Genetically- engineered hormones, like bovine growth hormone, antibiotics and other hormones. Just like many other products on the market, you are not just drinking milk or eating a can of soup, you are ingesting hundreds of other chemicals that wreak havoc on your internal organs and body as a whole.
For many people who have done their due diligence and watched the many documentaries on Netflix about the food industry or read the books, this information is nothing new. However, there are still many people who don't know and don't want to know what is happening to their food.
So as much as I agree with the many points my mother has to say about food and keeping a healthy weight, the one thing we disagree on is calories. Here is one of my examples of this.
Lets take Progresso Soup Light Southwestern-Style Vegetable. (Weight Watchers) – This stuff sounds totally healthy with words like, LIGHT and VEGETABLE, and the all mighty WEIGHT WATCHERS. What could possibly be wrong with this innocent looking can of soup?! Lets count the ways.
First, we start with the can itself. Cans are lined with chemicals, most notably bisphenol A or BPA. The problem with this chemical is that it leeches into the food in the can. If you are eating a can of soup a couple times a week, you can see how this can lead to a toxic overload in your system.. BPA has been shown to act as the hormone estrogen and effect puberty in children and pregnant women. Canada and France have both labeled BPA as toxic and banned it in any of their food packaging. That should tell us something.
More harmful though, are the ingredients of the soup. While the list starts off pretty normal, including chicken broth, celery, tomatoes, carrots, sweet peppers, black beans,and red bell peppers. These are all words we can pronounce and understand. The list continues with 1% less of Salt, Monosodium Glutamate, Maltodextrin, Hydrolyzed Corn Protein, Xanthan Gum, Inulin, Cilantro, Onion Powder, Garlic Powder, Modified Corn Starch, Spice, Dried Chipotle Pepper, Dried Chili Pepper, Autolyzed Yeast Extract, Natural and Artificial Flavor, Corn Flour, Sodium Phosphate, Calcium Chloride, Citric Acid, Milk Powder, Wheat.
It is bad ingredients that really make a difference. MSG!!! Monosoduium Glutamate is soooo bad for you! Have you ever eaten Chinese food only to find yourself hungry again an hour later? I know we all have. MSG is added to food so the food companies can put less REAL FOOD in their product. Because it costs more to have real food with real spices. Here are just a few of the risks associated with digesting MSG. Inflammatory bowel disease, brain damage, endocrine disorders (obesity and reproductive disorders), behavior disorders, adverse reactions ( including headaches and spiked insulin levels), and neurodegenerative disease.
Next on the list is Hydrolyzed Corn Protein. Sounds yummy, right?! This is just another form of MSG! Here are some of the wonderful side effects on the human body: headaches, nausea, fuzzy thinking, diarrhea, heart irregularity, and mood swings. How can one little bitty ingredient cause so many problems? That is because it is not natural. It is processed and broken down so many times, it is not even food anymore.
Here is another lovely ingredient that goes by the name of Modified Corn Starch. One of the first clues is the fact it has been modified. Why does something need to be modified in order for it to taste good? It started as corn, but it has been CHEMICALLY altered, and used as a food thickener. It is also another name for MSG. So far that is 3 ingredients that are all a form of MSG.
Here is the point I am trying to make. No matter how many calories a packaged food item claims to have, it does not guarantee that it is actually HEALTHY for you. Food companies are in the business to trick and deceive you. Natural does not mean natural and Gluten Free doesn't always mean Gluten Free. READ THE LABELS and research it yourself. Be your own advocate, and your world and health will change!
Here is a quote that really hits home for me. "The food you eat can be either the safest and most powerful form of medicine or the slowest form of poison."
― Ann Wigmore
O'Brien, R. (2012, March 22). 8 Simple Ways You Can Avoid Chemicals in Cans. The Huffington Post. Retrieved May 11, 2014, from http://www.huffingtonpost.com/robyn-o/bpa_b_1353276.html
MSG: a neurotoxic flavor enhancer. (n.d.). MSG: a neurotoxic flavor enhancer. Retrieved May 11, 2014, from http://www.truthinlabeling.org/
Ingredient Information – HYDROLYZED CORN PROTEIN. (n.d.). In-R-Food. Retrieved May 11, 2014, from http://inrfood.com/ingredients/1188
Light Progresso: Souped Up with Salt. (n.d.). eBrandAid RSS. Retrieved May 11, 2014, from http://ebrandaid.com/healthy-soups/light-progresso-souped-up-with-salt/
4/30/14
Diet Dos and Don'ts:
Pick 3 diet moderations or alterations and practice them for 6 weeks, then go on to the next 3 diet moderations or alterations for the following 6 weeks.
Don't purchase or eat white bread of any kind, including hot dog or hamburger buns, garlic bread or white crackers.
Don't ever eat at McDonald's, or any other similar fast food restaurant.
Add a vegetable or fruit to every single meal:  dried cranberries in oatmeal, tomato slices for lunch, salad or broccoli for dinner.  No need to do fancy, keep the purchasing and the prep simple.  For example, if you cannot get to the fresh food market very often, buy a jar of artichokes and any type of olive for a delicious salad.
Do not purchase or consume whole milk, whole cheese or whole yogurt unless your diet requires it, or you are feeding children.
Do not purchase or consume any type of soda, ever, for any reason.
Choose whole foods as snacks, for example: dried fruit, nuts, whole fruit, whole grain crackers.
Stay away from "creamy" anything: no hollandaise, no alfredo sauce, macaroni and cheese, any cream sauce and any cream covered frozen vegetable, they are all notorious for high calories and cholesterol provoking ingredients.
Do not eat a cake, cookie, candy or any other baked sweet more than one time per month and more than one serving per time.  This includes low-fat, low-calorie concoctions.
Purchase a calorie counting book and study it assiduously.
Do not snack unplanned – if you must snack, plan it and calculate your calorie intake into your day's calorie budget.
Do not eat unless you are eating.
Chew slowly and gratefully for every bite and make your meal last 20 minutes minimum.
Do not purchase or eat full calorie, full grease potato chips for any reason, at any time.
4/28/14
Everyone that I know who eats while they are at their desk, in their car, or in front of the TV, is at least 15 pounds over weight.  They may have many other ailments that make them heavy, but the worst ailment of all is distracted and unconscious eating.  If you are hungry, you must honor your body and honor your food by giving your whole-hearted and undistracted attention to eating your meal.  Do not bring sugary drinks and snack bags with you everywhere that you go.  You will surely eat the food if it sits in front of you.  Keep food in its place, on a dining table and only when you are hungry.
3/15/14
Whites!  Okay, here it is: look at your plate.  Is it full of whites:  Bread, french fries, white flour tortillas, white rice, cake and rolls?  40 years ago (yes 40) my physician told me that if I went to McDonalds I had to choose between a hamburger roll or an order of french fries.  He said that if I ate both I would gain weight that would be difficult to get off.  Who knew that his words would be so accurately portentous for Americans?  If your primary diet foods are composed of whites, you are either very young or very large.  A high composition of white foods in the diet brings about a low consumption of good foods that make you feel and look a lot better.  What I mean by this is that "starchy" foods, white foods, are tantalizing satisfying which makes us want more.  We then skip the salad, eat a small bit of protein and then pile on more whites, or more things that make the whites taste good, such as cheese, bacon bits and salt.
I propose that for the next 72 hours you count the number (items) and the amount (serving size) of whites that you consume, this includes every kind of cracker, except possibly Triscuits because they are whole grain.  This includes cereal, donuts, bagels and bread.   Keep in mind that just because a product says "5 grain" that does NOT mean it is "whole grain".  Whole grain is a world of difference from a processed white flour product.  Whole grains will actually do good things for your body, but like anything else must be eaten in moderation.   Once you have made these calculations for a couple of days, you may end up being very surprised about what you are consuming.  It is so very easy to get the nutrition information you need for a healthy body: http://www.choosemyplate.gov/
Once again, the point is mindfulness – being aware of what you are doing, when you are doing it.
David L Katz, MD, MPH says about Nutrition on Linked In (2/12/2014):  Diet, Weight and Health, Confused Only if You Want to Be
I would argue we are not, and were not confused – we are, and were conflicted. We were, and are, active participants in a massive collusion at the level of our culture.  We wanted to have our low-fat cake and eat it, too. In other words: we probably really knew all along that "low fat" advice really meant eat more mixed greens, but we WANTED it to mean: keep eating pastrami, and dilute the calories with low-fat cookies. And so we did. And here we are.
Which leads back to looking beyond the hypothesis. Studies that have looked at cutting fat by eating more naturally low-fat plant foods have, in fact, shown astonishing benefit- such as the reversal of coronary atherosclerosis, the prevention of heart attacks, and the favorable modification of gene expression. But that hypothesis was never tested at the population level.  At the population level, we asked this: what will happen when Big Food takes advantage of the advice to reduce fat intake by inventing a whole new variety of junk food and we all pretend that's what we thought the advice meant all along, and eat a whole lot of that starchy, sugary junk and never actually reduce our fat intake either? I trust no one is too surprised with the answer: we will get fatter and sicker.
My note is this – I have never seen such an elegant way of saying "Come on people, you know what you are eating, you know why you are overweight."  I am absolutely in awe of how nicely this man communicates a clear acknowledgement of how we damage ourselves with our diet!"
2/9/14
Once again I saw an article in the newspaper about eating lunch at your desk.  It appears that folks have many reasons for sitting at their desks while eating.  I am aware that my careful eating is a product of how old I am, so perhaps 30 year-olds will not hear what I am saying, but it is worth saying again.  If you are eating, stop everything else and just eat.  Focus on your food, focus on your chewing, focus on how your body feels.  By doing this, you will get full and you will know that you are full.  This will keep you from overeating.
1/7/14
"Successful dieters never give themselves a break"  They don't change their eating habits at holidays or celebrations or at any other time.  Successful is defined as dieters who have kept weight off for as much as ten years.  Also, if you are able to keep the weight off for more than two years, you are more likely to be successful at weight loss and maintenance in the long run.
This information is quoted and paraphrased from Diane Sawyer's newscast on 1/6/14 (ABC World News).
12/6/13
Regarding weight:  You must make your stomach / yourself very uncomfortable in order to over-eat.  In order to be extremely obese, you must do this often and with great commitment.  If you will stop and be aware of how your body feels, you will learn many things, including how it feels to be full.  Learn this, this is an important awareness to have.
In regards to exercise, watch out how your brain rationalizes your workout.  I recently noticed that I follow the advice to be active for a minimum of 30 minutes on "most days".  My brain said that 3 days out of 5 days is "most days" and I could ignore the weekend.  My body is not mathematically inclined, nor does the body allow for rationalization, I have to be active at LEAST 4 out of 7 days in order to be active "most days".
So, to maintain a healthy weight, you must be aware: of your body and what it is telling you, as when your stomach says "I am full" and you must also be aware of your brain, as in "I don't feel like exercising."  Your brain will trick you and rationalize… You be the boss, don't let your brain rationalize away your opportunity to exercise.
10/19/13
Do not eat, unless you are eating!  Do NOT eat while you are driving, do not eat while you are working, do NOT eat while you are watching TV.  These things are very bad for you and train you to live in a very negative way.  Eating is for e.a.t.i.n.g. only.
9/23/13
White Flour is Out to Get You!
Here are some of the ways that white flour can sneak into your diet.  If you are like me, you do not want to eat fried potato chips or corn chips, so you may have switched to pretzels to stay away from grease and to have a baked snack.  Pretzels are made with white flour.
Of course, everyone knows that pasta is made with white wheat, yet I forgot and ate a fabulous tasting macaroni salad!
No white bread, biscuits or hot dog buns.
No saltines!
Cookies 🙁
Whole grain food consumption requires a vigilance that is sometimes difficult to maintain.
9/15/13
The concept I'm about to write about came from a Tampa Bay Area Radio announcer.  It is a great concept for weight management and I had to record it here (I can't recall the guy's name).  The point he made is this, we often go out on the weekends and celebrate with friends and family.  We spend a lot of time at restaurants on the weekend and this is where we eat and drink.  Most people do not realize that in a single day they can consume as much as 10,000 calories by eating out at restaurants.  We do not realize that prepared foods are significantly richer, higher in calories and it goes without saying ridiculously higher in salt and fat content.  While I have talked before about the dangers of eating restaurant food, I though it was worth while to reiterate it because of the brain talk that we often do to rationalize our diet: "I don't eat out very often, so I deserve to get anything I want."  Or, "I can't get this food at home, so I should eat it all while I have the chance."  The problem is that if these thoughts were really true, then it would be okay to eat what you wished, for example, if you only ate out (at a restaurant) 4 times per year, then you could eat 5000 calories in one sitting and it probably would not affect your weight.  The truth is that most people eat out much more often than 4 times per year and so it is unrealistic to think that you can eat "whatever you want" at one sitting.  The other flaw in this thinking is to believe that food is a reward for deprivation.  This is probably not a good way to think about food.  If you deprive and then reward, you may end up taking all of the normalcy away from your diet.  This will not help you.
So let's say you are having some fun with friends and you all go to Chili's for dinner.  You order Bacon Ranch Chicken Quesadillas (1650 calories).  You then decide to celebrate by having 'Original Ribs' (2170 calories).  What a fabulous dinner, so you linger over dessert which is 'Molten Chocolate Cake' (1020 calories).  Subtotal 4840 calories, because you have nothing to drink and this is only dinner… Let's say you did not have time to cook breakfast because you have been running around all day with errands, so you stop off at Einstein's Bros Bagels and you order 'Asiago cheese' bagel (550 calories) and 'Garden Veggie' cream cheese (110 calories).  If you do this often enough, you will quickly be a much larger size than you are now, while continuing to grow.
To put this in perspective humans need about 2000 calories per day, men need a bit more and women need a bit less.  You can see that it is impossible to lose weight under the conditions above and given these conditions even once per month, it is improbable to even keep a stable weight.
A lot of people do not know what they eat or how much they eat.  Some people may even be saying to themselves "I don't want to know how much I eat."  If this is you, then you should not be reading my blog.  LOL
8/21/13
It is important that you NOT be fooled by words such as "vegetable" or "salad".   If they are attached to pre-prepared food they are 'lies in disguise'!  Please check the calorie counts before you indulge.  Restaurants and catering facilities are using these words to disguise some really fattening ingredients such as pasta made with white wheat and different oils, including hydrogenated oil.  If you eat white wheat pasta and you are over 50 years old, you are de-energizing yourself.  Not to mention that pasta is cheap, but is sold in combination dishes as if it were a rare and delicate treat.  Do not forget that a pound of pasta costs less than a dollar.   The evidence against hydrogenated oil is well documented and does not need to be regurgitated here.  The point is that if you want to be healthy by maintaining healthy ingredients in your food, you must pay attention to the particulars of your diet.
You cannot trust the large food chain presentation at all.  Look up the calories!  Many large chain stores sell 'healthy' food, the problem is that it has more calories in one meal than you can afford in a DAY!  You must pay attention and read the fine print.  Definition is very important, most of the large food chains do not even claim to be healthy, yet try to give an impression of healthy.
8/12/13
STOP SNACKING!  PLEASE STOP SNACKING.  You are overweight because you won't stop eating.  Only eat when you can focus on the FOOD.  Do not eat because you are bored, or angry or frustrated.  Focus on your focus!  Food deserves ALL of your attention, if you are NOT eating, then stop eating!
7-31-13
Concretely, Food: if you want to have a healthy weight and a healthy body and you are having a difficult time with it, you need to put your mind into the idea of a big change, an overhaul.  You have to identify what beliefs you have about your eating.  You can't change something you don't know about.  If your brain tells you "it is okay to order dessert when eating out", you should know that, you should also know that it is a false belief.  You cannot order dessert every time you eat out.  Another false belief is that a little bit of bread is okay.  White bread is never okay, a little or a lot, it doesn't matter, it is a filler that is bad for your body.  The way to identify a belief is that every time you eat, you must acknowledge your thoughts.  This is no small thing to do, you must think about thoughting… Deep, huh?
Not really, it is all very simple, as you start to change your eating, your mind may fight you.  Pay attention to it.  Pay attention to what you are thinking.
You must do some planning and you must think small.  In the beginning of a diet, do not buy anything in bulk except toilet paper.  If you are a one, two or three person household, you do not need to buy food in bulk, you just do not.
Purchase a reliable calorie counter, it can be electronic, it can be a book, it must be reliable and accurate.  Read it.
Once you go to the grocery store, you need some rules.  Buy ONLY low fat, reduced fat, fat free products.  Buy light popcorn, fat free milk, low fat frozen yogurt, fat-free yogurt and as much jello as you like.  Pay special attention to salad dressings, they can be poison, purchase low fat, low calorie salad dressing.  Everything you buy in a package should say "Reduced!".
Research a few nutritious low calorie dishes that everyone likes and that you can eat over and over again.  Right from the beginning we realized that we could not "afford" the calories in Alfredo sauce, we found a good recipe with low fat mushroom soup and broccoli that works well.  We switched completely to whole grain pasta.
We tried many things, some things that we tried tasted like card board, we kept on trying, we weren't about to give up our goal of having a healthy diet and a healthy long life.  This is a journey that is fraught with failure, you cannot give up, you must keep going, as success is a matter of life or death.
7-12-13
No I don't have a shoe fetish,,,
But seriously make your foot wardrobe a priority!  If you wear shoes that bite, crimp, cramp or otherwise make your foot uncomfortable, you are sub-consciously reducing your daily activities!  You don't realize it, but your body will avoid painful sensation.  So, if your feet hurt because of your shoes, you are short circuiting your healthy efforts, because your brain will over ride your desire to walk.  Your brain will think of ways to assure that there is no pain being transmitted from the feet.  The brain does this by thinking of the quickest, easiest and of course, less painful route.  Your brain will not need to do this, if your feet feel good and comfortable!  Your brain will not subconsciously avoid the pain, therefore avoiding exercise, if your feet are ready to exercise.  Comfort is the way to assure that you take those extra steps and use the stairs.  Put on comfortable shoes, take the long way around and your metabolism will speed up!
tbt* 6-24-13
In this morning's edition of tbt*, there is an article "Don't count on calorie counts."  I was frankly very disappointed in the article.  The article cites several studies looking at receipts in restaurants that have recently published calorie counts.  The thesis is that people would consume more calories before they were posted because they consumed food in ignorance of the number of calories in the food.  The theory posits that once people know how many calories they are eating, they will purchase food with less calories.
According to the studies cited, in some cases people bought less calories and in some cases people bought more calories and in a lot of cases calorie buying behavior did not change, just because people were informed.  This is not surprising to me.  When did the fast food chains start posting calorie counts?  Recently, that's when.
Here is the comment that especially disappointed me "We're not as plump as we are because we've never had our eyes opened to the wages of a Whopper.  We're this way because it's all too easy, in a pang of hunger and collapse of resolve, to turn a blind eye to the toll." 
To be in the overweight and obese situation that we are in is not a matter of an event.  Just like being an addict, you must re-choose your addiction over and over again, every single day.  You cannot be obese because on one day, in a pang of hunger you collapsed your resolve.  Every single day for months and months and then years and years, you must ignore calories and exercise over and over again.  You cannot become obese without having a bit of resolve.  You must have resolved to ignore calories and you must insist on NOT exercising to excess.  You must have a commitment to ongoing over eating.  This is not easy, your body will reject this; you will have to buy Alka Seltzer and Pepto Bismol and Tums.  You will have to ignore what your body is telling you about your stomach.  So please, do not suggest that a single event happened and we are now overweight.  It is an ongoing string of events.
5-17-13 I totally wanted cornbread for lunch and I wanted to take the elevator too.  I.did.not.do.either.  ACK
5/3/13  Mindful Dieting
Yesterday, as I was taking my daily walk, I had to stop on the sidewalk on the south side of a driveway onto a busy street.  I stopped and just stood there for a few minutes because the women driving; poised to pull out into that busy street was busily eating and watching towards the north.  I could not walk in front of her vehicle because she just was not seeing anything to the south.  What she was seeing was her food and the street to the north of her.  I did not mind waiting, but I felt sorry for her.  What has been cropping up in my life lately are heavy-set women who swear that there is no way that they can lose weight.  They spend many minutes explaining to me or anyone else who will listen why they are heavy and why they 'cannot' lose weight.  I've heard so many justifications for being heavy: my mother-in-law's favorite "I have a slow metabolism because of the thyroid."  Other favorites for maintaining heaviness: "since menopause, I just can't get it off" or "I've never had enough money to eat right, we only have enough money for pasta instead of whole wheat."  My own excuse has been that I hate exercise.  I actually went to the gym for several years of my life and loved it.  I eventually quit because the pool and whirlpool were important parts of the gym experience – but I kept getting infections from sitting in the whirlpool – yucky!
One of the most successful tactics that I have seen for weight loss is the practice of what Eastern religion practitioners might call "mindfulness".  I want you to be conscious for your life.  Even the boring, day to day, drudgery is for you.  I want you to be center stage for your life.  That means that you must be present for all that is possible and all that you do.  Eat at mealtime and dedicate mealtime to eating.
Don't eat food while you are sitting at your desk, driving or watching TV.  Research has proven over and over again that when you do this, you will eat more and therefore consume more calories.  Many people divert themselves by eating and do not realize that eating = calories = weight.  There is no diversion from this fact about our bodies.
My husband tells me about someone he works with who eats snacks all day, will inevitably at 2:00 in the afternoon, rush out of the office to go and get lunch.  She speaks as if she is so busy that she just could not get to lunch earlier.  My husband believes that she eats unconsciously and is therefore not aware that by eating all day, she cannot get hungry, but pretends instead that she is busy.  We were talking about this because my friend at work eats from a box of 'wheat thins' almost all day.  I am sure that manufacturers congratulate themselves on how they name their products in order to trick the human brain.  It works.  People inherently believe what they read and continue from there.  Reading a package that says lo-fat and looks delicious is everybody's dream of reality.  Unfortunately, particularly when it comes to nutrition, reality is reality and dreams are dreams.  Remember: eating = calories = weight.
I have one other observation about those of us who are currently hanging on to a lot of extra weight – what you drink matters, it matters very much.  Here is what I mean about that.  I am constantly speaking with dieters who do not understand why they do not lose weight, while they clutch their bottle of 210 calorie juice desperately to their breast.  Many dieters believe that if they stop drinking soda they will soon drop excess pounds.  Nothing could be further from the truth if you are just adding a high calorie juice.  The other fable is that diet soda will resolve the issue.  It will not.  Diet soda is nothing more than poison and it expresses disrespect for your body.  That kind of disrespect can get your body into trouble in so many ways.
 If you want to lose weight, you must learn the 'absolute no'.  You should never eat white bread under any circumstances, so when someone says to you – regarding a white bread permutation – for example, pancakes: "Would you like pancakes, my dear?"  Your answer must be "absolutely not!", and of course, "thank you, anyway".
The point of the absolute no is that the human brain is an incredibly powerful manipulator.  The human brain wants whatever will give it pleasure chemicals – and that includes white bread!  So in order to be successful with a diet, you must develop a list of "absolute nos".  By having absolute nos, you will be able to keep yourself from indulging in dishes that are very bad for you.
One of my absolute nos is full bodied ice cream.  I can have low fat frozen yogurt, but I cannot, under any circumstances have ice cream.  If I do not do that, then you will find me every day with a ready excuse to consume ice cream.  My brain will think of so many permutations and manipulations your head would spin!  Some examples of manipulations are: "well, I'll just have one bite" or how about this one "I don't eat dessert very often, I will have that pie a la mode please" or how about this one "I love Dove ice cream bars, it will be okay to have just one!"
These are all examples of my pleasure loving brain-power hard at work trying to get some sweets, so that happy chemicals will be released.
For a critical step in your healthy life journey, you must develop this list of absolute nos so that you can get a foot ahead of your brain.  Once they have been in place for a while, they can become habit and you will gain a better control over consumption.  But, that, is a conversation for a later date.  Today is 4/19/13
Living Vividly:
Exercise is not an event that you 'go to' or 'attend'.  Living vividly is something you must do every day of your life in order to maintain your health.
When I go to work, I will wear comfortable shoes.  If I have to attend a meeting or event that requires high heels or pumps, I bring them along in a plastic bag.  I always wear shoes that allow me to walk and that encourage me to take the stairs rather than the elevator.  If you are looking at exercise as an event that you must 'prepare' for, then you may be stalling yourself unnecessarily.  Exercise is a full time endeavor for living vividly.
Make yourself available to activity, any activity, any time.  If you are available then you continuously burn your calories with the side benefit of keeping your metabolism revved up.  Every endeavor qualifies: I carry my own groceries (weight training), walk the stairs three times at lunch (cardio training); I continuously move around my office and my building.  I will always volunteer to bring an item across the campus rather than using a messenger.
This is what I mean by living vividly.  I am ready for activity, bring it on!  3/19/13
In regards to exercise: Never, ever take the elevator. If you think to yourself "I'm tired, I don't want to walk up those stairs", just remember this: "You can sleep when you're dead, which you will be * a heck of a lot sooner * because you don't exercise."  2-4-13
Healthy eating, because I am NOT going to use the word 'dieting'.  Every time I looked at the word diet, I said to myself "that is not for me!"  There are a couple of reasons I feel strongly about this, one is that I think that the word diet, implies a state of suffering.  I just can't have that feeling about my life.  I owe it to my daughter Rhea and my daughter-in-law Molly that I have been able to completely reconstruct my concepts and thus the term healthy eating.  Rhea and Molly finally got through my hard head with a better understanding of the food industry as it is TODAY: Which is very different than the way it was YESTERDAY.  Having been nourished as a hippy, I have had this notion of enjoyment of food that is whole and natural.  Rhea gradually got me on 2% milk and I am now down to fat free milk.
Now that I have studied calories, I am finally beginning to understand what works and what does not work.  For one thing calories are critical to weight maintenance.  And another thing is that they should be thought of in the long term, not in the short term of today, "what's for lunch?"
If you go to Panera Bread and you have an Italian Combo on Ciabatta with ham, you can eat one half of the sandwich for 490 calories.  You can only eat ½ of the sandwich.  If you are eating at Panera Bread, you probably want chips (160 calories) and a soda, or maybe you are thinking about your weight, so you want baked chips and water.  One ounce of presweetened tea can run anywhere from 10 calories to 119 calories – so for an 8 ounce glass of pre-sweetened tea, you could be consuming 952 calories.
If you are someone who cannot figure out why you cannot lose weight, now you know!  Eating a sandwich with chips and a drink every single day for lunch can add up dramatically.  You could be eating 1200 – 1500 calories for lunch!  If you are a woman who should only be eating 2000 calories per day, then you have consumed any chance you have to lose weight, simply by having lunch.
Contrast this with Progresso soup that is 100 calories per serving, 2 servings in a can, so, if you pig out and finish off the whole can of Progresso soup, you still have only consumed 200 calories.  Do that for lunch every day for 10 days and you will lose weight, plain and simple!
Think about this, over a period of a year, person in the first example who is eating this lunch 280 days X 1200 calories = 336,000 calories.  The person who eats Progresso soup for 280 days X 200 = 56,000 calories.  If one pound is approximately 3500 calories of overeating then eater #1 has gained 80 pounds.
Does this shed any light on the situation?
Newsflash:  Current research is telling me that men need 56 grams of protein and a woman *my age* needs 46 grams of protein daily.  Both men and women need 25 to 30 grams per day of fiber.  I have no idea what this means.  I will try to figure it out and get back here.
Wasting food: Please waste food!  If you eat food to avoid 'wasting it' and it has caused you to be overweight, please waste food!  Eating too much food when you are overweight is a big waste.
Sentinel Article 1/16/13:   Beliefs are thought processes that control your behavior.  Trust me, beliefs are critically important to your eating behavior.  Beliefs are critically important to all behavior. You don't always know what beliefs you have floating around in your head that are controlling the way you eat.  One obvious (erroneous) belief is "finish everything on your plate!"  One not-so-obvious belief that I had / have is "it's not worth putting a lot of effort into cooking and preparing meals unless you are cooking a lot, or for a lot of people"  This is an outgrowth of the efficiency model and the 'no waste' model from the depression era.  In other words, my mother felt very strongly about waste and inefficiency.  Because I didn't think it was 'worthwhile' to cook unless I was cooking a lot, I would either over cook or over eat: both bad outcomes from a belief system that wasn't working for me anymore.
A belief system is a tool that we use to make our life easier.  It was actually a survival mechanism that allowed us to recognize the signs of danger when the danger re-occurred.  This pattern recognition allowed us to behave in a way that would give us safety.  Unfortunately, we have not learned to utilize this pattern recognition turned belief system to our advantage.  Instead the pattern recognition / belief system is guiding us to behavior that is killing us softly.  What can be a softer way to die than to eat yourself to death?
What you need to do is to take one week and just s.t.o.p. and think about every food choice and ever activity choice you make.  Just take one week to think about all of it.  One tool I use to track my behavior is to 'envision' a piece of paper that stays with me, the paper follows me around and is always availabe when I need to make a note or an observation about what I am doing.  I imagine the paper nearby and I am able to write on it.  Be sure that when you make an observation, you are not judgmental with yourself, be gentle with all things that are related to you.
Do not tell me that you are too busy to eat correctly.  You are not interested in eating correctly and perhaps you do not like planning.  You are NOT too busy to eat correctly.  When you go to the grocery store, buy a case of water, put it into your car.  If you need water at home then buy 2 cases of water, one for the car and one for home.  Purchase a lot of fruit.
Do not purchase things that are made with 'whites'; for example – White: flour, rice, pasta or potatoes.  If you must eat 'whites' then eat that which was not bleached white.  For example, if you must have flour, get unbleached or whole wheat if at all possible.  Potatoes are not bleached, rice is bleached, these are facts that are important.  You should learn them, if you wish to survive in a healthy way.